Barcode labels with sales price and encrypted digit of purchase price will be generated easily only by one click to print on A4 label papers or barcode label printers like Honeywell. IMEI is a unique number that each mobile phone whatever smart phone or classic phone has in the rest of world. you can not find two mobile phone with same IMEI numbers.
Therefore, you can IMEI number to sell mobile phones and issue your invoice with IMEI number for references of customers, vendors and your account department.
iGreen accounting supports IMEI very well, so that you can issue sales invoices and even purchase entry by IMEI. also you can see stock inventory.
How to enter IMEI in iGreen
in dashboard screen, click on [ITEMS] and in form [List of Items] , please click on tab [List of items/ services ]
then select an item and in tab [Base information] , please click on [serial numbers], then you will see list of IMEI and serials of selected item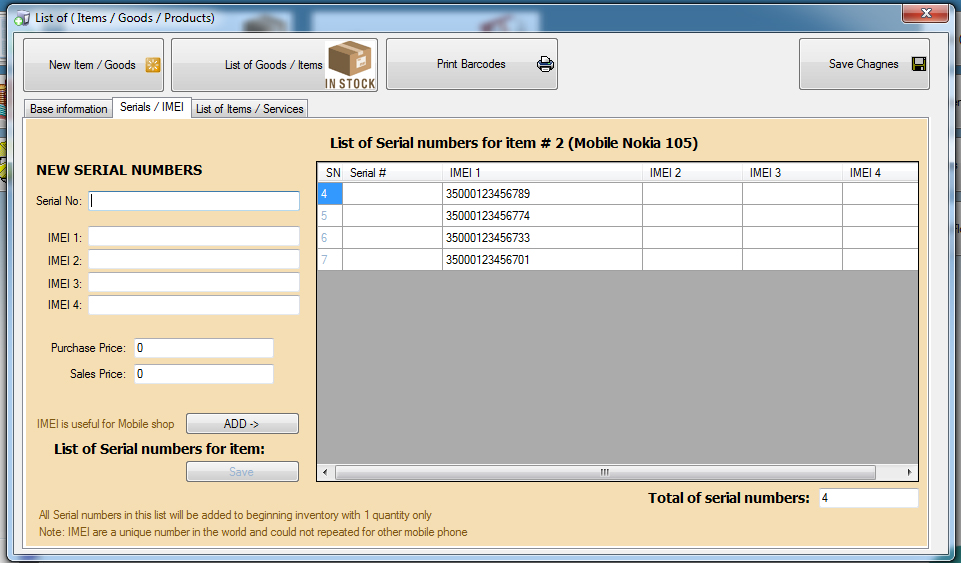 in right of this form, you will see a table of saved IMEI and Serials, to add a new IMEI, enter in left side in text box of serial no, IMEI 1, IMEI2 ,… and then click on [ADD] button.
when you entered all serial numbers, then to save and finalize it, please click on [SAVE] button.
Important notes
Each IMEI could be used on time
Each IMEI will add one quantity in selected products / mobile in stock invnetory
Each IMEI could not deleted or edited after it will used in invoices and purchases
Invoices with IMEI for mobile shops
As you see in below photo, when you enter IMEI by hand or barcode scanner, it will find its mobile phone quickly to ease issuing invoices for mobile shops